China based short term rental platform Tujia.com International has agreed to acquire homestay businesses of Ctrip and Qunar as part of a strategic agreement. With this acquisition, the homestay channels of Ctrip and Qunar along with their operation teams and entire business will be merged into Tujia. Earlier this year, Tujia also acquired rival Mayi from 58.com Inc. in June. This acquisition will further strengthen its position in the alternative accommodation market in China. This also indicates that the market has grown past the startup stage.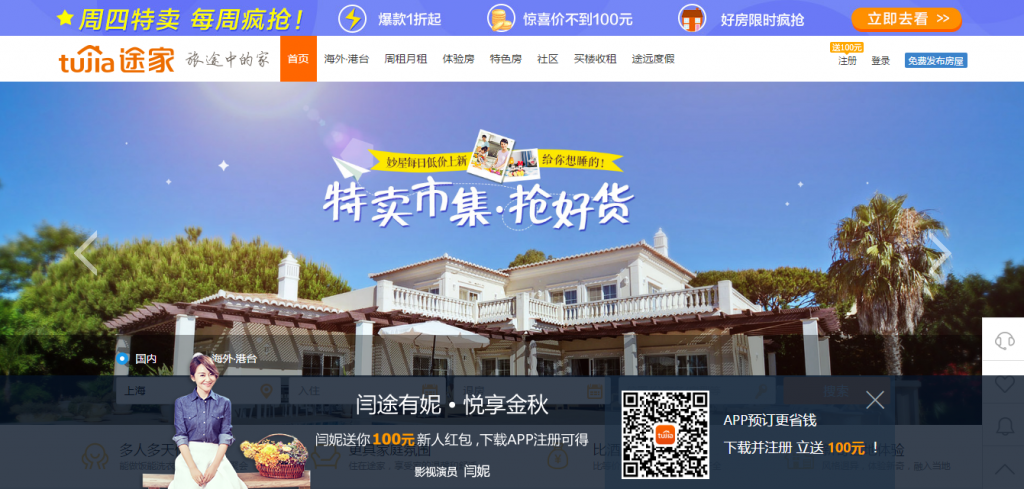 Upon the completion of the deal Tujia will receive a wide range of benefits from Ctrip and Qunar, including inventory, traffic, branding and operations support. The purpose of the deal is to ensure that all users, guests and hosts can gain sustainable benefits. Meanwhile, Tujia will further strengthen its dominant position in China's accommodation sharing market.
Justin Luo, co-founder and CEO of Tujia said that with combined inventory and a larger customer base, the brand will be able to offer a better experience for both guests and hosts. The guests will get a wide array of options in one place while property owners won't have to manage listings on multiple platforms as the guests will be coming from one source.
Maria Sun, the Executive Vice President of Ctrip.com and CEO of Accommodation Division, said, "in the segmented vertical sector of the homestay and accommodation business, Tujia has built itself into a great brand and established a high reputation. Therefore, we are very pleased to integrate the favorable advantages by handing the homestay business of Ctrip over to Tujia, infusing more energy into the latter so as to create greater value for apartment owners and customers."
Following this deal, Tujia will release a series of new products and services. The five strategies Tujia announced at its launch event in March have all been implemented, especially the RBA program (run by agents), which pilot-runs well in several key regions in China. Tujia has also expanded its overseas business. With offices operating in Japan, South Korea, Singapore and the Taiwan region, Tujia is committed to building a platform for Chinese customers to travel all over the world.
The momentum Tujia has picked up indicates that one of the largest travel markets has opened up to the idea of alternative accommodation. History tells us that homegrown Chinese tech companies take stronger position against their international rivals and maybe Tujia could be to Airbnb what Weibo is to Google.