TripFactory, a customized holiday platform, is in talks to raise $100 million in Series-B or second round of institutional funding, a senior executive of the company told Mint India, a leading financial newspaper. TripFactory was co-founded by Vinay Gupta, Amit Aggarwal and Varun Gupta in 2015. Vinay Gupta and Amit Aggarwal had earlier co-found and sold Via.com to Ebix.
"We are looking to raise a $100 million or even more, depending on the kind of investors we can attract," said Vinay Gupta, co-founder of the online holiday company. Vinay Gupta added that TripFactory is in talks with various funds based out of the Silicon Valley, China and Japan. The online travel marketplace founders will also be engaging with investors who backed their previous startup Via.com.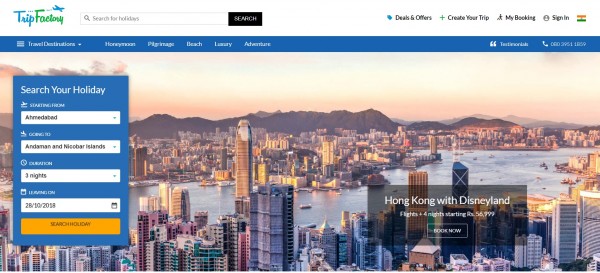 "We will obviously go back to engage with investors that had shown confidence in us as founders, when we were fundraising for our previous venture via.com, namely Kaalari, Sequoia, Expedia, Priceline, Naspers, Temasek, Premji and new ones like Google, Microsoft, and others," said Vinay Gupta.
In 2015, the company had raised around $10 million in a Series A Funding from Aarin Capital Partners led by former Infosys Ltd board member T.V. Mohandas Pai and Manipal Group chairman Dr. Ranjan Pai.
"It's ironic. Travel is an information industry with Zero-IT, it's just oceans of people everywhere, misinformation in short. All it has seen is a little bit of software automation, more like old car rental companies using software, before Uber came," said Vinay Gupta.
"We questioned why there is no large holiday company globally. You have to go a few 100 years back and say where did it all start, and then we can innovate. You cannot try making the frying pan better, like the rest, to come up with a microwave. It meant redefining everything; building the world's First Full stack holiday company. The tech platform we built, like AWS, to sell holidays world over creating the first truly integrated global holiday company with network effects worth 100's of billions of dollars," he added.
TripFactory is looking to scale up using an omni-channel; goal is to sell 60k-100k holidays a day. The company is looking to hire around 400 people and set up offices in various cities across the globe. New offices in Dubai, Singapore, Manila, Indonesia, Thailand, Cambodia, Vietnam, and Hong Kong later this year as part of its global expansion plans.