The burgeoning popularity of the self-drive car rental space has seen many startups gradually beginning to provide or aggregate affordable car rentals for the GenY that is fond of the shared economy concept. Cashing in on this trend, travel company Cox and Kings has launched Self-Drive 365, a one-stop road trip planner to destinations across India as well as abroad.
The brand will offer destination plans, experience-based drives, facilities as well as a variety of cars and motorcycles. There will also be a 24-hour support crew for a seamless experience. Self-Drive 365, with its seamless booking process, along with end-to-end trip planning is also the go-to platform for beginners who have low or no experience of self-drives.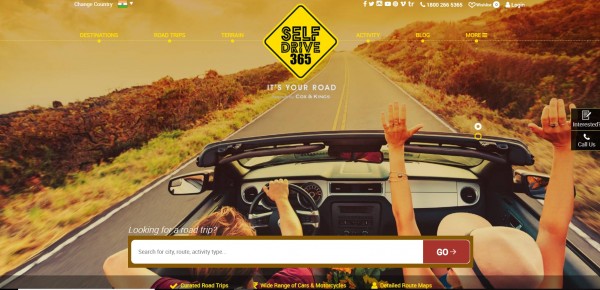 The new brand allows customisation basis experiences, terrains and several enticing activities. Be it a winding hill-climb, arrow-straight highways, tunnel of trees or beach-hugging coastal roads, each route is fun for a different reason and Self-Drive 365 lets everyone choose their favourite route to head out on. A splendid window to the diverse cultures around the world, explorers can experience fascinating history behind the Indian sari, the Scottish kilt, the Englishman's Bowler hat and the Bhutanese Gho en-route their destination. Similarly, one may choose to entwine the road trip with an activity or experience that makes a destination unique be it the alluring cuisines, wildlife and other adventures.
Speaking at the launch, Debolin Sen, Business Head, Self-Drive 365 said, "Self-drives are fast gaining popularity in India with enthusiasts wanting to explore foreign as well as domestic destinations at their own pace and with their favourite cars and bikes. With a highly experienced expert panel, round-the-clock assistance, hassle-free paperwork and series of thematic routes, Self-Drive 365 is set to be the pioneer of self-drive tours in the country".
While the insurance, rental documentation, trip itinerary, accommodation will all be managed by Self-Drive 365, explorers will also be provided with a detailed road trip guide besides other mechanical assistance. Giving prime importance to the client's convenience, the Self-Drive 365's road trip advisor will first chat with them before charting the exclusive road trip.
Karan Anand, Head, Relationships, Cox & Kings said," Being the leader in the industry, Cox & Kings has been in the forefront of conceptualizing dynamic travel offerings for travellers in India and elsewhere. In line with the emergence of experiential travel, the market for self-drives is growing. Through this unique offering, we wish to ensure, our travellers don't miss the important part of local exploration"