Cabbies and hotel front desk staff are my best guides in a new city. Even when I have compiled a list of attractions and activities after research, they usually have something new to add. Very often, they are also able to share recommendations for local activity providers and this is how it has been for quite a while for many travellers. People tend to book their travel and accommodation well in advance but put together a vague plan for what they are going to do at the destination, unless of course they are booking a package.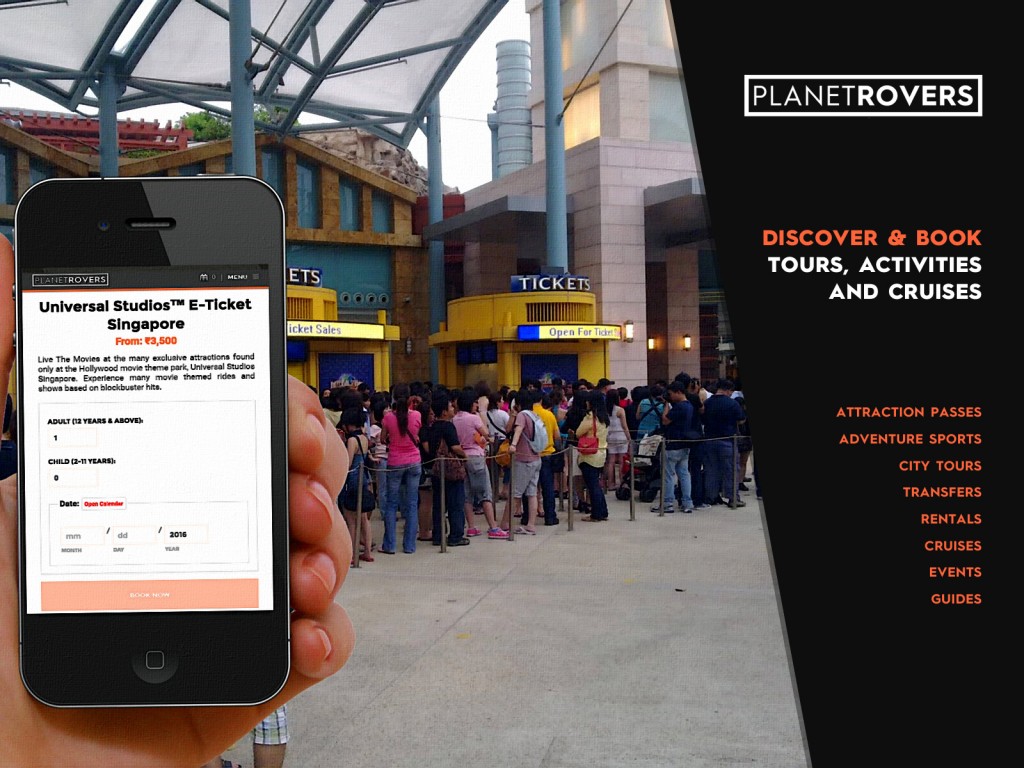 According to a research report by Google and Sojern, 85 percent of travellers decide on activities only after having arrived at the destination. This means that a large number of travellers are still booking what they do at their destination, mostly offline. There are certain platforms that would allow travellers to book activities online when they put together a plan but that would require booking along with the travel arrangements. Most of these platforms are targeted at people who are booking activities online at the planning stage, which is a growing, yet small number. Planet Rovers saw an opportunity here. Which is why, while catering to the travellers who are planning and booking online, Planet Rovers is also trying to target a fraction of those 85 percent travellers who are not.
Vaibhav Doda and Sidharth Kapoor, the founders, carry experience of working with some of the biggest names in travel and technology space. Vaibhav has worked with companies like MakeMyTrip and Kuoni – SOTC where he developed various sales & business development strategies and was critically responsible to grow business from scratch. Sidharth on the other hand comes from an engineering background and also has experience in recruitment of tech professionals. Their love for travel got them to join hands to build a platform to offer activities to travellers.

With the ambitious plan to be the go-to place for activities, Planet Rovers already offers the options across multiple geographies. Vaibhav shares that instead of focussing just on reaching the customers directly and getting them to buy through their website, the team is putting a strong emphasis on meaningful B2B partnerships that can drive business. According to him, the customer acquisition costs run high in the activity space and customer loyalty is low.
Associating with other travel companies allows to cut on the acquisition costs while allowing the partners to offer better value to their customers. Among the big names, they are already working with MakeMyTrip and are in conversation with another major OTA for a similar partnership. Along with that, they are also working with multiple offline travel agents to provide quality activities for them to offer as part of itineraries.
This space is neither without competition nor without its challenges. The space has seen lot of interest recently from startups and major players alike. Vaibhav however says that many of these players are either focusing on the kind of activities one would choose for weekend getaways or are tailored to cater to people who are planning activities well in advance while booking online. Planet Rovers is working to ease the discovery and booking process for people already at their destination. Unlike some other activity booking platforms, users can book directly without having to spend time in back and forth conversations. They are not just looking at the online space but also tapping into the offline market with the travel agents and upcoming in-destination partnerships. He also points out that along with activities, cruises also contribute significantly to their revenues.
Talking about the operational side of things, Vaibhav shares that the providers are now very comfortable with the idea of online as a channel. The providers in Singapore, Thailand, Dubai and Mauritius were able to be a part of the processes smoothly. In India, while the providers they are getting onboard are happy with new sales channel but are still getting acquainted to the process of managing their inventories online.
He also shares that the global market size of tours, activities and cruises combined, according to Phocuswright, is USD 200 billion and they plan to get even more aggressive in this space. Focusing on the last minute inventory and targeting destinations with high tourist arrivals, Planet Rovers is targeting GMV of USD 2.5 million in the next one year. Among new geographies, they are looking at Australia, Hong Kong and Bali.
While tours and activity space has always been termed as a steep climb by the experts, the massive scale offers great opportunties. Planet Rovers, with its in destination partnerships to tap into the major chunk of travellers and associations with travel booking providers, seems to be taking the right way upwards.
You can find more details at planetrovers.com.